This strategy aims to find opportunities where an asset has had a decent move to the upside but is ready for a trend reversal. It essentially utilises Commando to find a lower high.
1. Find an asset that has scored highly on Commando (2+). Either track its progress or check back to see if it has recently scored another high score. The first score must be higher than the second. This strategy compliments the standard Commando strategy, so if it is the first bullish print then follow that strategy.
Print 1 is the initial bullish Commando score
Print 2 is the 'high' score
Print 3 is the final, less bullish score
2. After the 'high' score, there must be a sizeable pullback. This should roughly be a 50% retrace of the initial move up. Any relief rally after this, should produce another bullish Commando score and entry for the short (remember, the 2+ Commando score is only actually bullish if there isn't another one 2+ in the 28 hours prior)
3. Enter the short trade when momentum starts to run out for Print 3. Confluence between OBV, MACD and RSI should provide a decent signal for this – they should also help identify that the relief rally has less momentum than the initial strong move up after Print 1 & 2. The strategy is invalidated if at any point price goes above the high achieved after Print 2 as this would not be a lower high.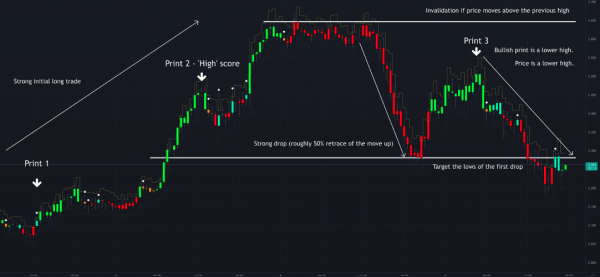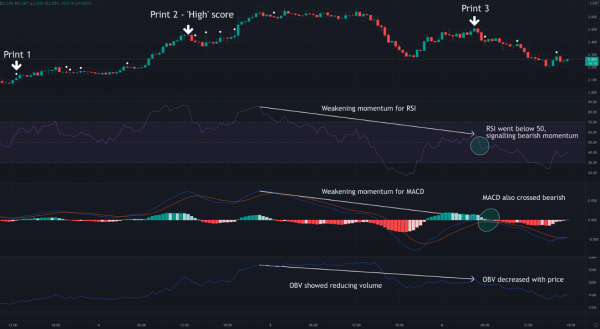 4. The target for the strategy is the bottom of the dip between Print 2 and Print 3. There are two options for placing a stop loss. First, the invalidation for the short with price moving above the previous high. The second option is to use the automated stop loss level on Predator, using either the 30min or 1hr time frame.
Disclaimer: Nothing within this article should be misconstrued as financial advice. The financial techniques described herein are for educational purposes only. Any financial positions you take on the market are at your own risk and own reward. If you need financial advice or further advice in general, it is recommended that you identify a relevantly qualified individual in your Jurisdiction who can advise you accordingly.