How to Use Predator
Predator is our proprietary trading indicator, which takes many key inputs, including trend, momentum and volume, processes it through our highly optimized algorithm and generates simple outputs. The simplicity of the outputs streamlines the decision making process for traders and takes the emotion out of trading. It can be used across assets and timeframes, although it has been specifically refined for cryptoassets between the 30 minute and 1 week timeframes.
The algorithm generates four outputs, following typical trading colours:
Green is bullish 

Teal is moderately bullish

Orange is moderately bearish

Red is bearish

Teal candles tell us to either exit our previous short position if we were already in a trade, or to enter an initial long trade. The bright green coloured candle tells us to fully allocate long. For example, this could mean adding size or leverage to the trade. Orange candles tell us to either exit a previous long position or to take an initial short trade entry. The red candles tell us to fully allocate short. These are just suggested rules for Bitcoin – for example with Bitcoin in a bull market, you may want to replace the shorting with simply reducing your size or going into a cash position.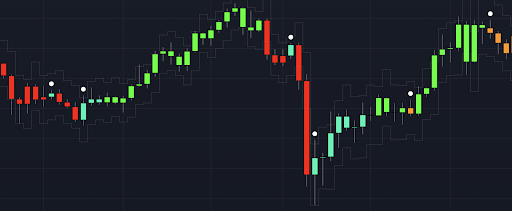 It is worth noting the white circles above some of the candles, these indicate chopping price action. They suggest ignoring the current candle and waiting for the next candle. The faint lines either side of the candles are suggested for stop loss placement. Like the chop circles, they are not essential, but simply provide a suggestion. During events of significant volatility, it is worth monitoring trades manually to avoid being stopped out unnecessarily.
How Filbfilb, the creator of Predator, likes to use it is across timeframes. This can be done in TradingView using the layout settings. This provides confluence – if Predator has the same output across all timeframes then the trend is very strong. If low timeframes are saying the opposite of high timeframes, this could be a warning sign that the trend is changing.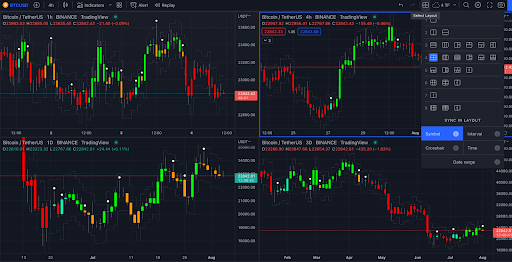 Predator Settings
The settings Predator comes with are the ones that we use at Decentrader. The only thing that needs changing is the "Use Combined BTC Volume" – have it checked if you are on Bitcoin, otherwise have it off.

Included Extras
Included with Predator you get a variety of accessory tools as well as Predator Thermal Vision. Predator Thermal Vision is a cross timeframe heatmap for over 100 crypoassets. Just log in to your Decentrader account and go here to access it.
You also receive access to the Decentrader Toolkit. This includes Terminator, V&TWAP bands, Liquidity and Swing Failure Pattern tool and a selection of Macro Indicators for Bitcoin. More information about all of these can be found here.
Disclaimer: Nothing within this article should be misconstrued as financial advice. The financial techniques described herein are for educational purposes only. Any financial positions you take on the market are at your own risk and own reward. If you need financial advice or further advice in general, it is recommended that you identify a relevantly qualified individual in your Jurisdiction who can advise you accordingly.