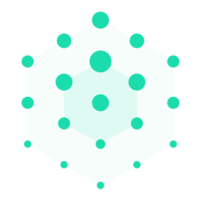 Bitcoin – The Rise of King – Black Friday
Fundamentals
The Decentrader KPI report demonstrates how Bitcoin is performing across a broad number of metrics and shows that despite the tremendous run up, Bitcoin is still very much in the early stages of the market cycle.
On chain and short term indicators are starting to show signs of the current move to $16k looking to be showing some signs of running out of steam; specifically the metrics which look at present value appreciation relative to on chain activity and production of purchase prices (Relative Unrealised P&L, Puell Multiple, Advanced NVT and Sentiment).
Overall these indicators aren't totally overbought but they do imply profit taking is not far away.



Decentrader Transparency
We have had a good run on the Decentrader account, outperforming the market while maintaining low risk and volatility through the turbulence. You can follow the trades associated with this account by subscribing 
HERE.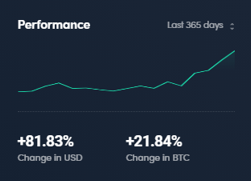 Technicals
In the last market update we discussed that there was little resistance to the 78.6% Fibonacci retracement level, which is where we find ourselves today.
The move higher has been driven largely by the spot market as shown by the negative funding and futures premium as well as the delta on the derivatives vs spot price showing spot prices being higher throughout the run up to $16k.
While the spot bid remains strong, the opposite is now true which has historically been a sign of consolidation at best and a top at worst.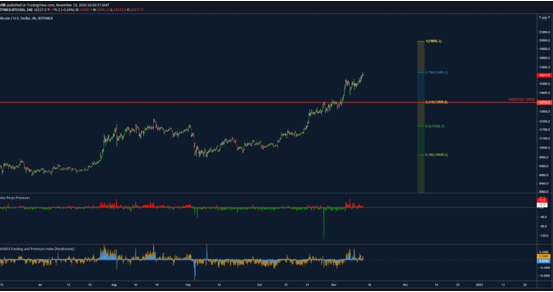 When DIP?
One question we are asked a lot is where we will be buying the dip.  Our strategy is to buy strength with conviction, but in terms of a reasonable pullback target, the 61.8% bear market retracement level (and 2019 high) which was broken out from is an area of interest (c. $13k).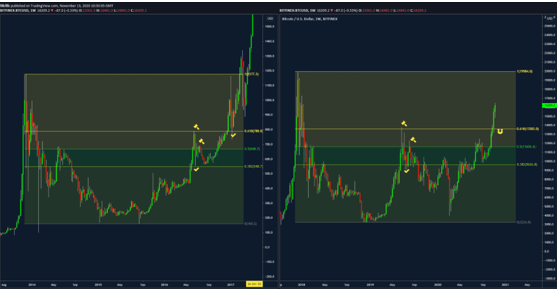 The two most common questions we are asked are when will there be a pullback and to what price and also; when will the top be in.
How High We Can Go?
We have largely been using cross timeframe Predator analysis to aid our trading decisions. Which from the below demonstrates how it has been long and strong since $10k.
The trend is still very much to the upside on the daily chart.  Due to other fundamental and technical now starting to show some signs of tiring, we are looking to the lower timeframes to manage spot positions and leveraged positions remain short term plays while we are at such heights.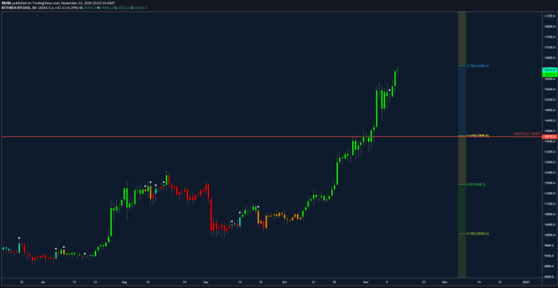 Closing Thoughts
Technical suggest that Bitcoin is closer to the end of this run rather than the start and caution of a pullback should be taken seriously.
The "where is the top" question is a difficult one to answer when volatility has been persistent to the upside and in our opinion the local top is likely to come in days to short number of weeks but there is still room for a blow off top before it is over.
That's it for this week, and don't forget to head over to DecenTrader using your 'BLACKFRIDAY' coupon to get 30% off Club & VIP Annual packages and Predator.
Speak soon,
Filbfilb, Philip Swift and The DecenTrader Team.
Disclaimer: Nothing within this article should be misconstrued as financial advice. The financial techniques described herein are for educational purposes only. Any financial positions you take on the market are at your own risk and own reward. If you need financial advice or further advice in general, it is recommended that you identify a relevantly qualified individual in your Jurisdiction who can advise you accordingly.