Market intelligence dashboards & indicators you can't get anywhere else.
Take your investing and trading to the next level.
Get started now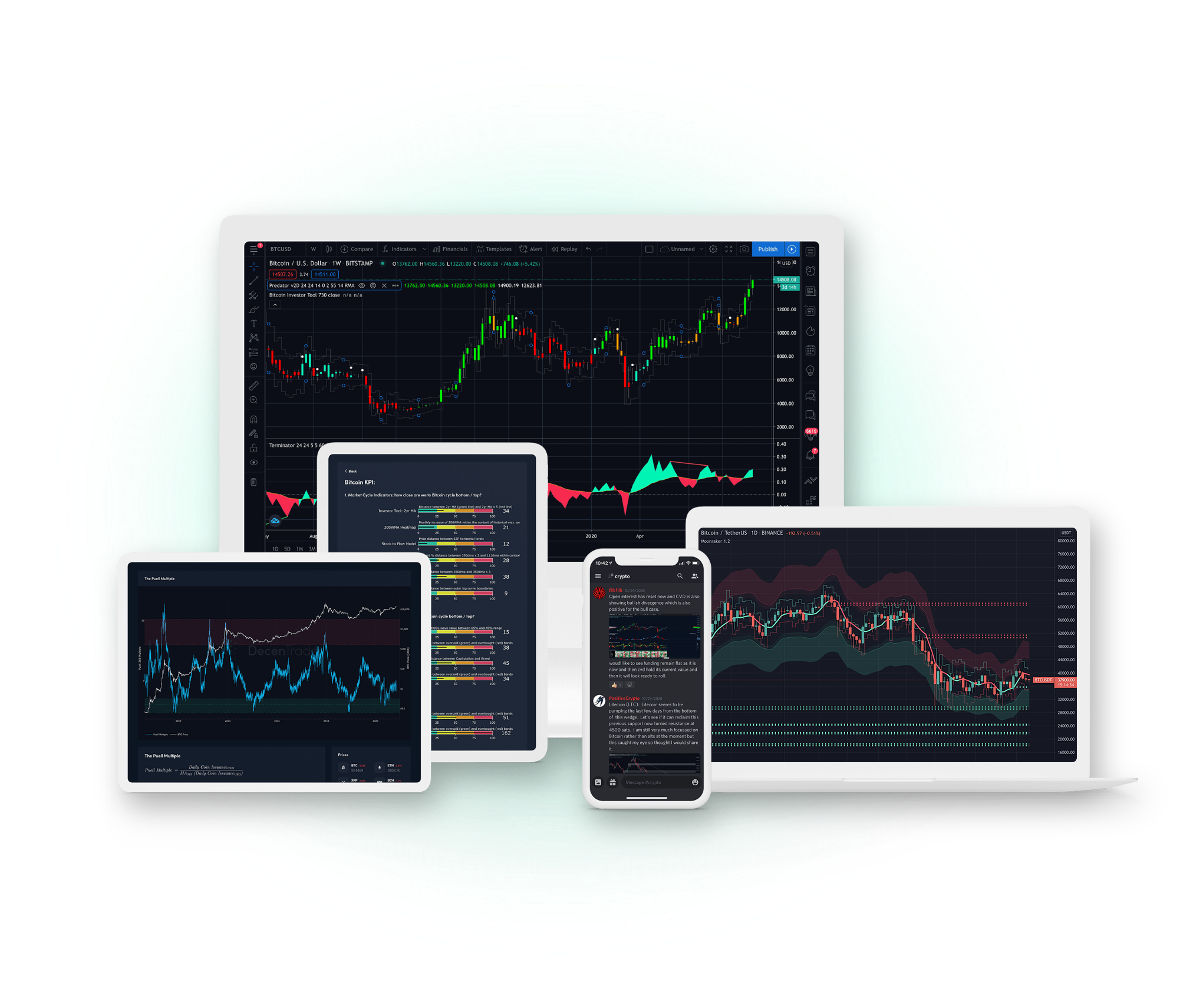 Dashboards:
Go beyond just data to see the Alpha
Access our suite of Bitcoin, Altcoins and NFT dashboards that have a built in edge so you get real-time market edge advantages.
Learn More
TradingView Indicators:
Manage risk across thousands of assets
Use DecenTrader's premium TradingView indicators to easily identify risks and opportunities across both Crypto and Traditional markets.
Learn More
Act on cutting edge analytics

Get the full picture with the industry-leading suite of combined technical and onchain indicators.

See the hidden liquidity

Liquidity Maps are like having X-ray vision of the market! Instantly see where hidden liquidity is sitting.

Manage risk

Survive and thrive with risk management tools like Predator that can be applied across both crypto assets and traditional markets.

Market Firsts

NFT King is a powerful market-first, that outperforms NFT "Buy & Hold" strategies by capturing upside opportunities while minimizing the downside risk of holding "worthless JPEGs".
Go beyond the data
+
DecenTrader's
powerful, easy-to-use
algorithms
=
Your edge
in the market
Subscriptions
Entry
Club
VIP
VIP + Indicators
Filbfilb and Philip Swift Analysis Discord Channel
Extra Bitcoin Live Data Charts (includes SOPR and Advanced NVT)
Product Tutorials and Video Guides
Filbfilb and Philip Swift livestreams
Commando-Lite (Top 5 coins by Mkt cap)
TradingView Indicator Package: VWAP Scalping Tool, SFP & Liquidity Tool, Terminator, Golden Ratio Multiplier, Bitcoin Investor Tool, Pi Cycle Top Indicator, Puell Multiple
Daily Newsletter (coming soon)
If you are already a subscriber your subscription will be upgraded when you buy a higher level membership.
Premium Indicators
Have a specific tool you want to use? We've got you covered.
The Predator indicator is a popular trend-based trading system. It combines multiple technical indicators to provide varying bullish or bearish biases for multiple asset classes across a wide range of timeframes (30min - monthly are suggested).
Moonraker is an easy-to-use, colour-coded indicator that can operate across all financial markets. It uses mean reversion strategies to increase the probability of successful long or short trades, while also managing risk.
A suite of premium trading tools designed for a wide range of trading conditions: Predator Momentum Oscillator, Terminator, VWAP and TWAP bands, Liquidity and SFP, Macro Indicators for Bitcoin.
SEC Crypto Crackdown
A lot has been going on this week regarding SEC crackdowns, so here is the simple version. If you'd like to get some more...
Read more