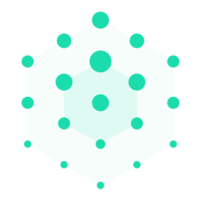 Bitcoin Relentless as ATH's continue
As I write this $BTC is going parabolic, smashing through $39k.  It may pierce $40k by the time I finish writing!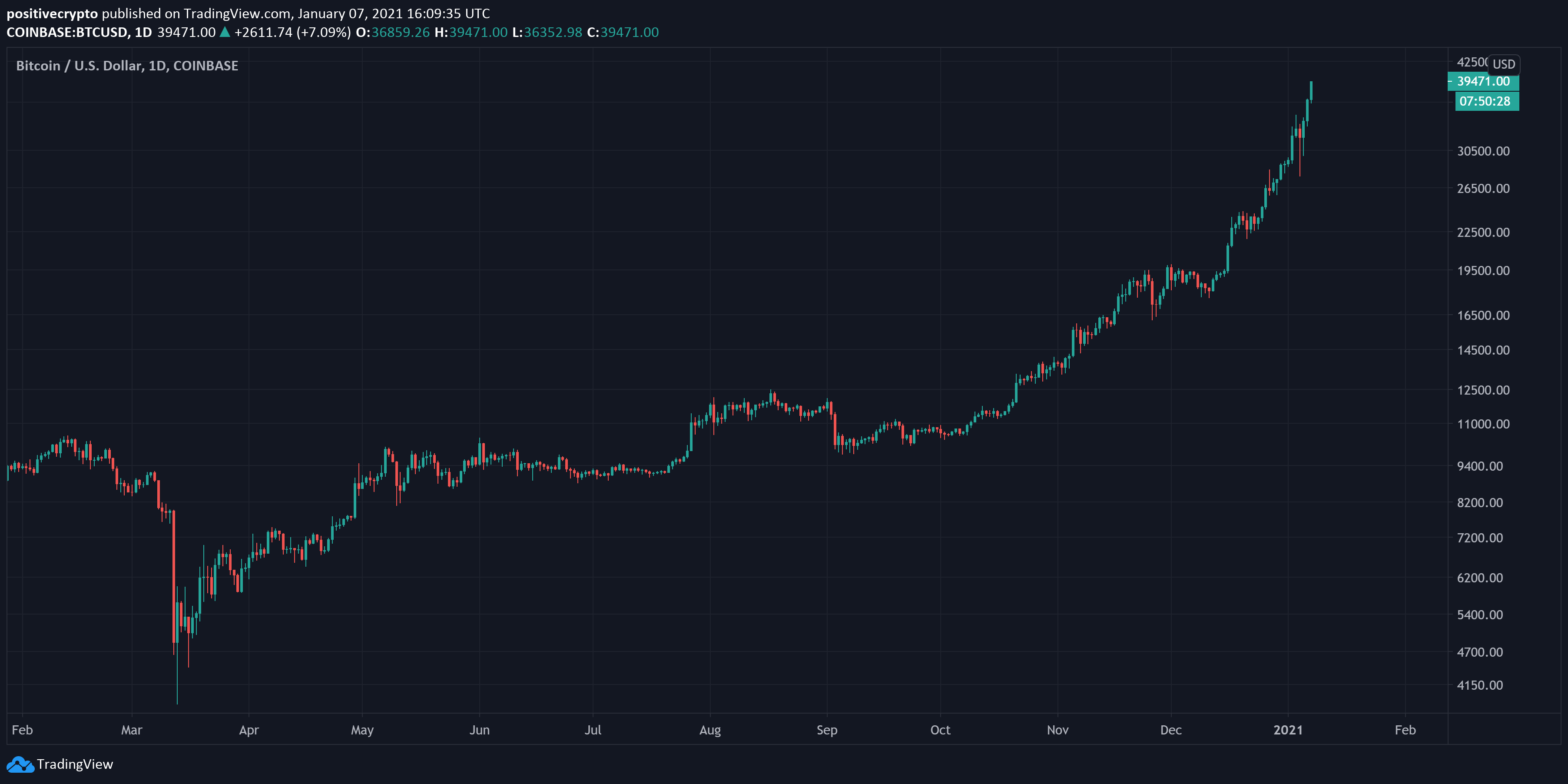 As much as it may be foolish to call the end of a run when Bitcoin is going parabolic, there are a couple of long time frame indicators which suggest price may need to at least slow in the near term.
Log Growth Curve Mid-Point
Price has now reached the midpoint of the log-growth curve.  As we saw in 2017 and 2018, price often, but not always, interacts with this midpoint. So we may see volatility in both directions over the next few days as price forms a clear direction either side of this key level.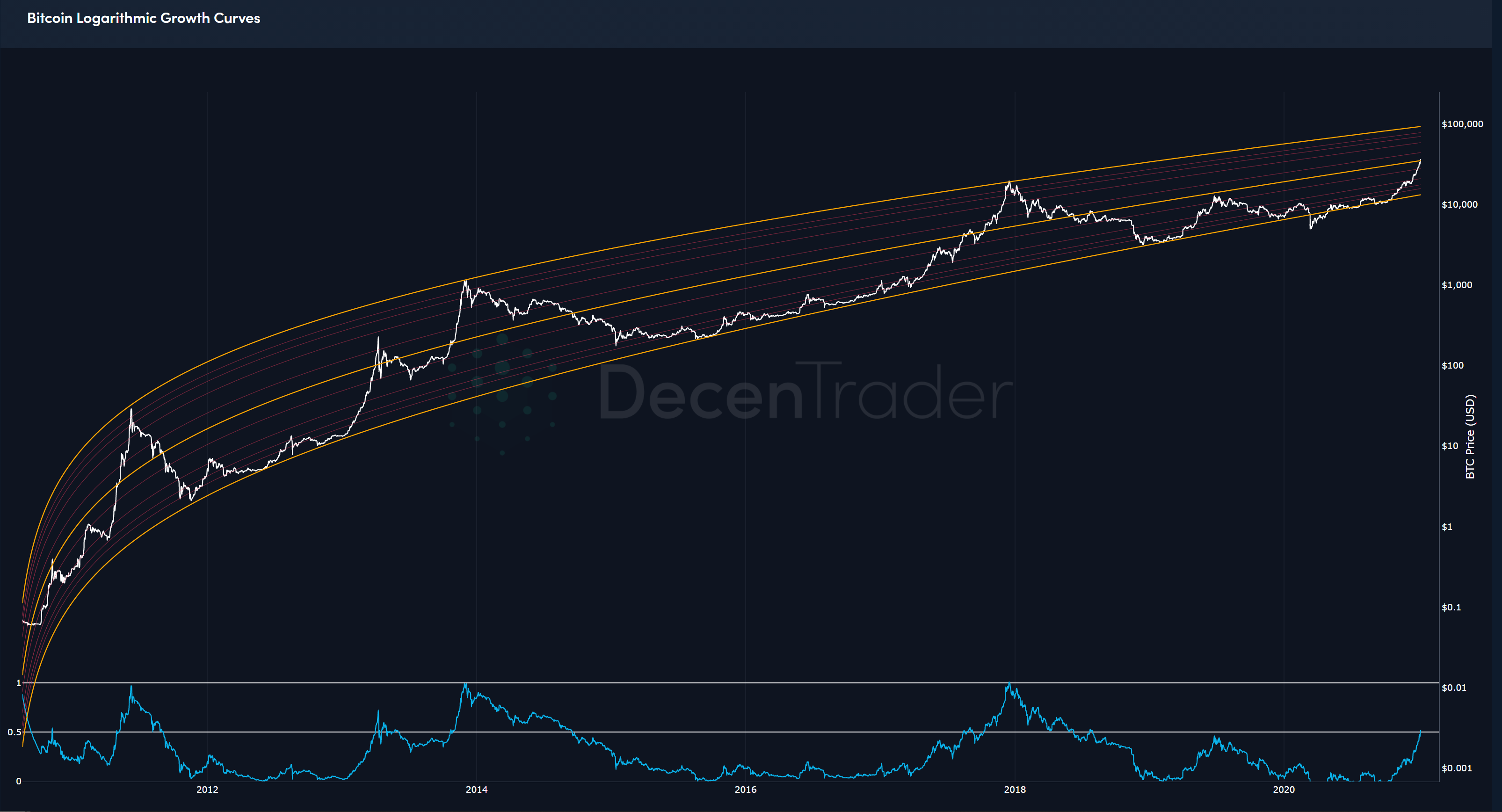 Golden Ratio Multiplier
Price action this cycle certainly appears to be rhyming more closely with the 2013 bull market than with the 2017 bull market.  We are seeing a strong early mania phase which has sent price racing right up to the 350dma x 3 (purple line).  I expected the price to only reach this level at the end of the cycle, which we are clearly not at yet.  We are still in the early stages of this market cycle.
So it remains to be seen if this acts as resistance in the near term.  If it does not and the price continues marching upwards, then this experimental indicator will likely be broken.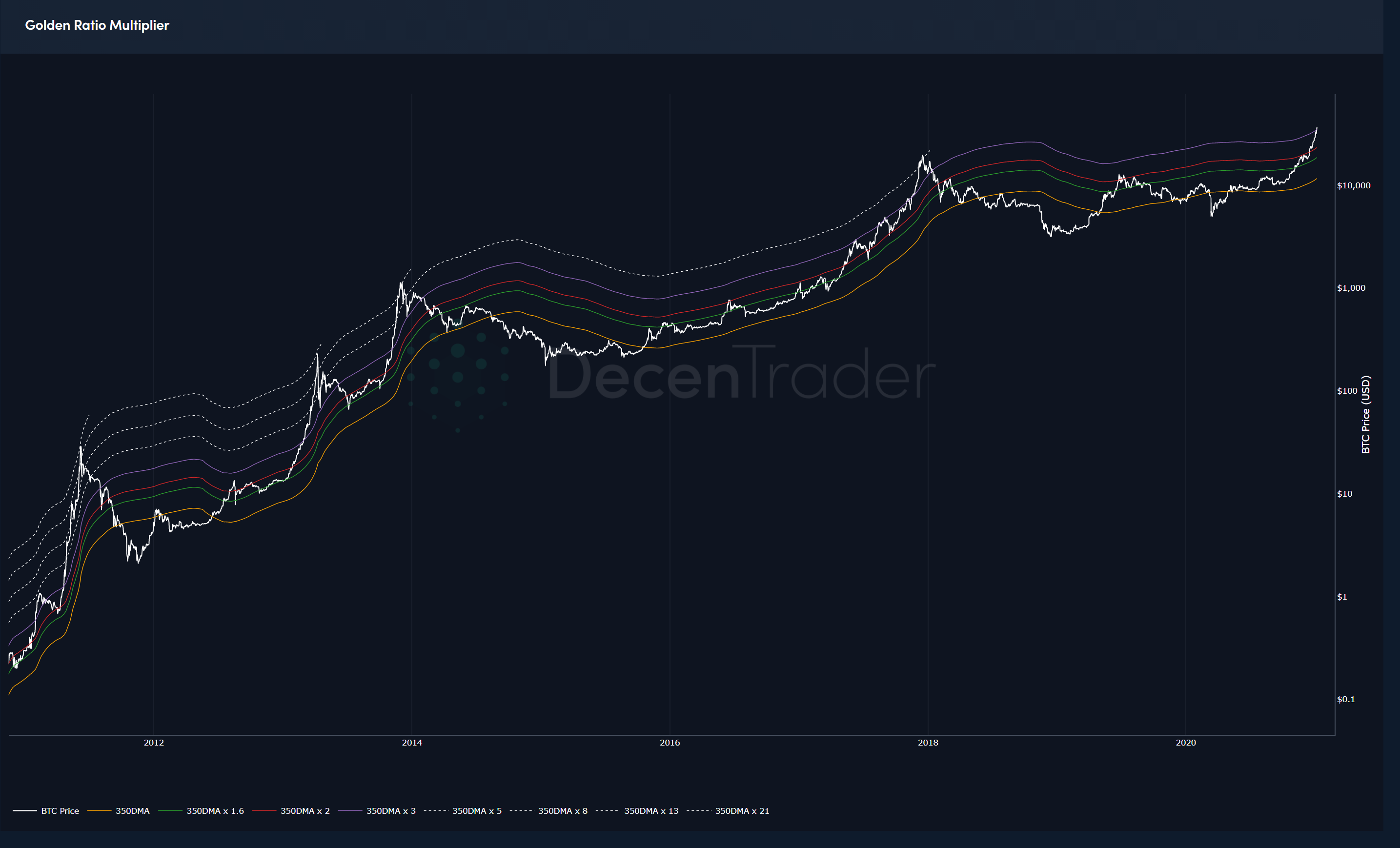 Advanced NVT
Further signs that this cycle is more comparable to 2013 are seen when looking at market cap relative to transactions on the blockchain. Advanced NVT allows us to see when short-to-medium term price action is racing ahead of on-chain activity.
The chart below is a little messy, but when the blue line of Advanced NVT has previously breached the outer red band, it has been when the price went parabolic back at the cycle high of 2017, of Dec 2013 AND the mid-cycle high of March 2013.  
We can see that right now the indicator is approaching that level which may be signaling that $BTC price will need to cool down soon.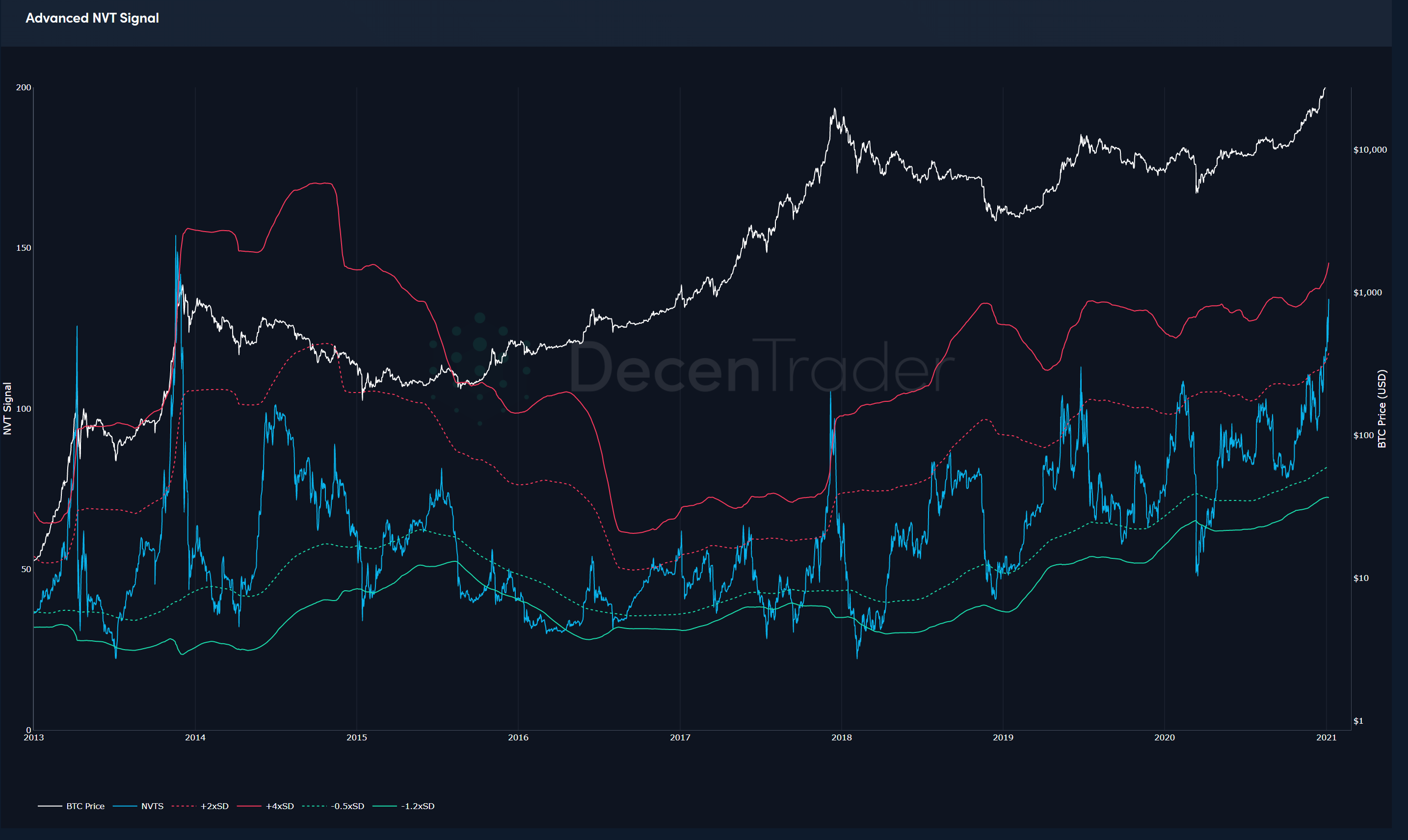 The counter-arguments to this are that we are now in unprecedented times for Bitcoin with new levels of investment coming into the space not only from retail investors but also from large institutional investors.  
Expect to see more and more announcements like the one below of Anthony Scaramucci's SkyBridge launching a Bitcoin LP Fund, as traditional investors are offered more simple and cost efficient ways to invest in Bitcoin.
SkyBridge Capital Says That "Bitcoin Is Better At Being Gold Than Gold".

"This week, @Scaramucci's @SkyBridge announced the launch of its investment thesis, presentation and full website for its new Bitcoin Fund LP."

Written by @BlockBytch_.https://t.co/pry16WeYIo pic.twitter.com/9UyucwLsFV

— Bitcoin Magazine (@BitcoinMagazine) January 6, 2021
So while there is some evidence to suggest that Bitcoin may need to cool down soon, it is unlikely that we will see major drawdowns from current price levels.  It is increasingly unlikely that price will revisit below $20k again this cycle due to the level of both retail and institutional money trying to enter into Bitcoin.
Rise up Ethereum and Altcoins?
The more likely outcome is that we will see market interest gravitate towards Ethereum and Altcoins as traders begin profit-taking on Bitcoin and look to maximize their gains elsewhere.  This is unlikely to result in a crash in the Bitcoin price, more likely a period of ranging.
We are already seeing signs of this, but we expect Ethereum and Altcoins to have a particularly strong 6-8 weeks from here on out.  Potentially outperforming Bitcoin for large parts of that time period.
At Decentrader we have been accumulating a number of altcoins over the New Year that are already performing well.  Many of our picks appear to have bottomed versus Bitcoin in the near term.  Today, we are seeing one of out picks, Yearn (YFI) put in an incredibly strong performance (+32% vs BTC, +41% vs USD) on positive news around the project.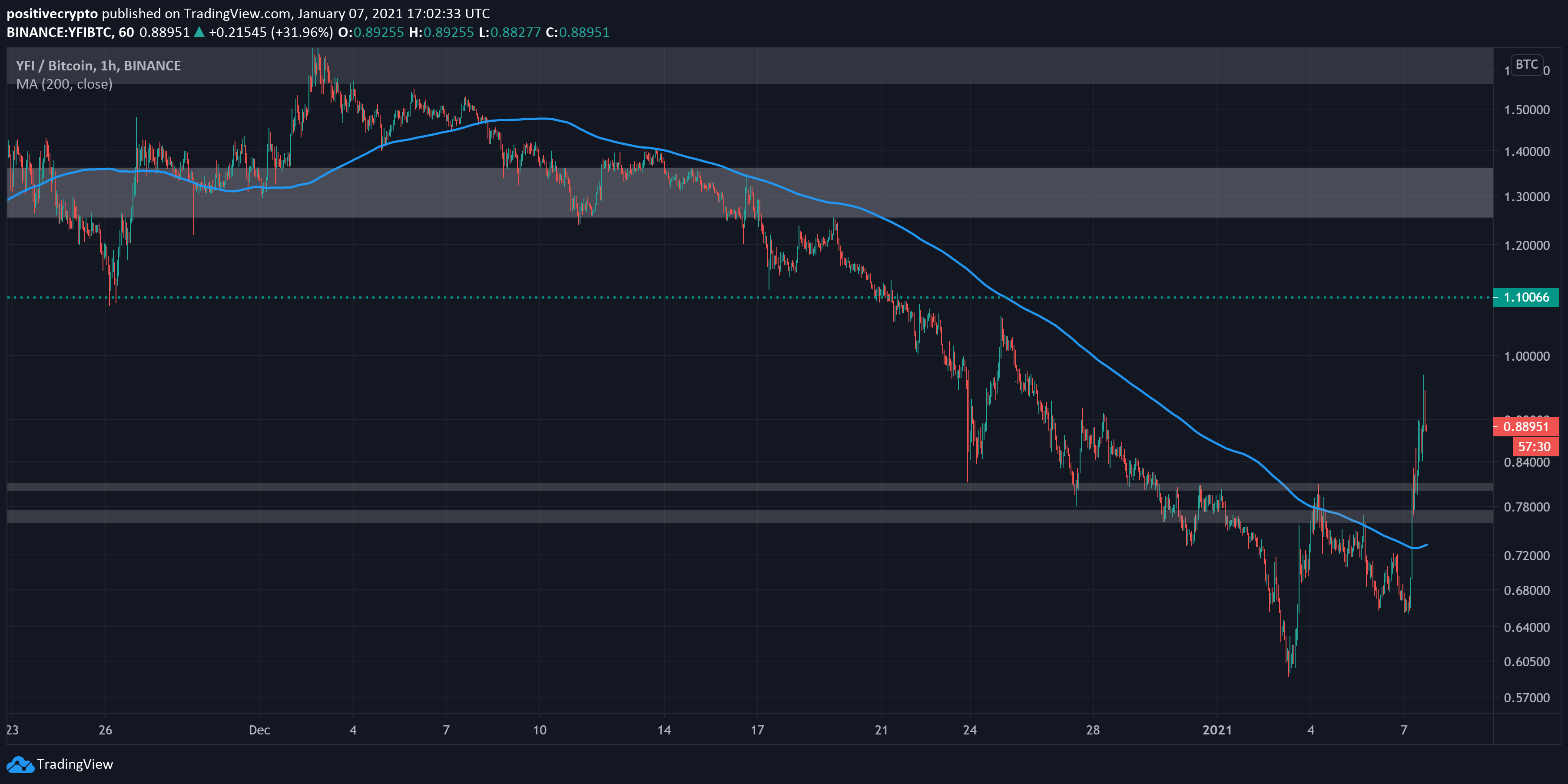 Technically, once the price broke out of the 200MA on the 1hr it did not look back, and the next upside target will be the 1.1BTC level. 
*If* Bitcoin does range then we can expect more upside for these projects as new money moves into alts over the coming weeks.
To learn more about how we are approaching Bitcoin and Alts, head over to decentrader.com.
Thanks,
Philip Swift and the Decentrader Team. 
Disclaimer: Nothing within this article should be misconstrued as financial advice. The financial techniques described herein are for educational purposes only. Any financial positions you take on the market are at your own risk and own reward. If you need financial advice or further advice in general, it is recommended that you identify a relevantly qualified individual in your Jurisdiction who can advise you accordingly.